What is China's New Controversial Subculture: Yabi?
For those of you too busy to check in on the RADII website every day, we've got you every Tuesday with a summary of all we got on China's youth culture from the last week. In this edition:
Intrigued? Keep scrolling, my friend.
---
Chinese Youth Are Competing to Be Librarians for a Chill Lifestyle
In China, the job of a civil servant has always been synonymous with security and stability. It isn't uncommon for Chinese parents to talk their kids' ears off about working for the public sector, as they believe that getting a government job will set their children up for life. As you can imagine, most rebellious youth typically brush off such advice.
However, this mentality has recently been changing, especially in the face of China's stagnant job market and excessive 996 work culture. Many Chinese youth have started to seek out slow-paced and low-pressure jobs, which gave rise to 2021's viral security guard trend.
For those who aren't fans of uniforms, being a librarian is the new dream job. In fact, the librarian position at city and university libraries has become more sought-after and competitive than ever before. A reason for this is that public sector jobs come with desirable social and retirement benefits.
A simple search for posts tagged 'librarian' on Xiaohongshu, China's top lifestyle platform, presents over 688,000 entries about life in the shoes of a librarian as well as tutorials on how to apply for the role.
China Discourages Divorce, Attempts Are Hit or Miss
Last month, Beijing local Wenyi turned 30 years old — an age that many Chinese people, especially her elders, deem ripe for marriage and starting a family. However, Wenyi, who has been dating her boyfriend for just over a year, is in no rush to get wed.
"I don't see myself getting married in the near future. I probably won't get married unless I decide to have kids, and that's at least five years down the road," said the newly-turned tricenarian.
The Chinese Millennial isn't alone. Young couples in China have been putting off getting married and having children for a while now. According to government data released in 2021, nearly half of the country's newlyweds are over 30 years old, but the overall number of people getting married has plummeted in recent years. Less than 8 million couples got married in 2021, which marks a 40% drop compared to marriage's 'heyday' in 2013.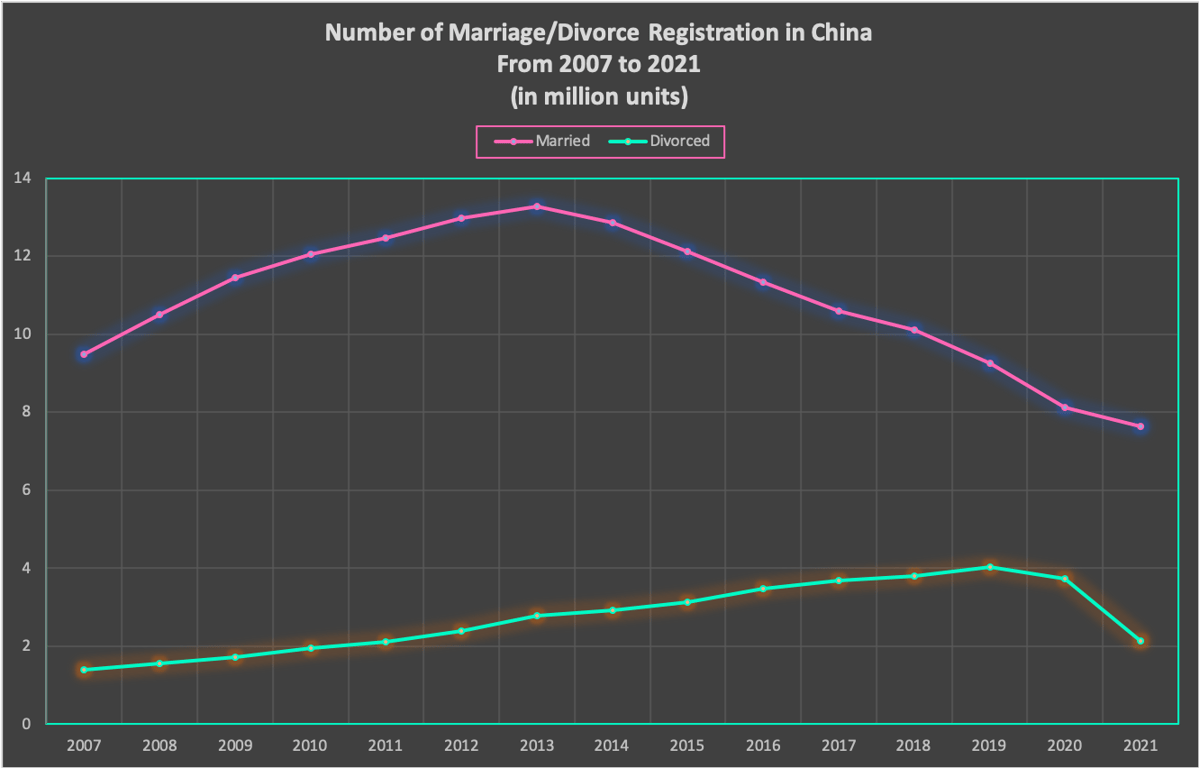 Naturally, birth rates in China have also taken a dive, plummeting five years in a row despite the government's reversal of the one-child policy.
Divorce rates, on the other hand, have been on the rise. Social stigma surrounding divorce has been dwindling, and more couples are willing to get themselves out of loveless marriages nowadays.
Concerned about its population decline, the Chinese government introduced what it calls a "30-day cooling off period" in 2021. The new rule essentially requires couples to wait another month before finalizing their divorces, and it seems to be working — the country's divorce rate took a nosedive that year.
Over the past few decades, unique youth subcultures have emerged globally: chavs in the UK, Gyaru and Harajuku in Japan, and K-pop in South Korea.
In China, the notorious 'Shamate' subculture faded out in the early 2010s, leaving space for a new eclectic aesthetic to develop. Known as 'Yabi' this aesthetic emerged in recent years in China's underground music scenes, and has gained popularity on social media platforms like Xiaohongshu and Douyin, often attracting criticism.
But what led to the emergence of Yabi, and why is this subculture so controversial?
On January 15, Tencent Video and CCTV-8 began streaming yet another TV adaption of Liu Cixin's sci-fi novel The Three-Body Problem. Comprised of 30 episodes, the live-action series titled Three Body is inspired by the first book in Liu's famed trilogy.
---
Find us on our Main Site, Instagram, TikTok, Facebook, Twitter, LinkedIn, Youtube, and WeChat (@radiichina)